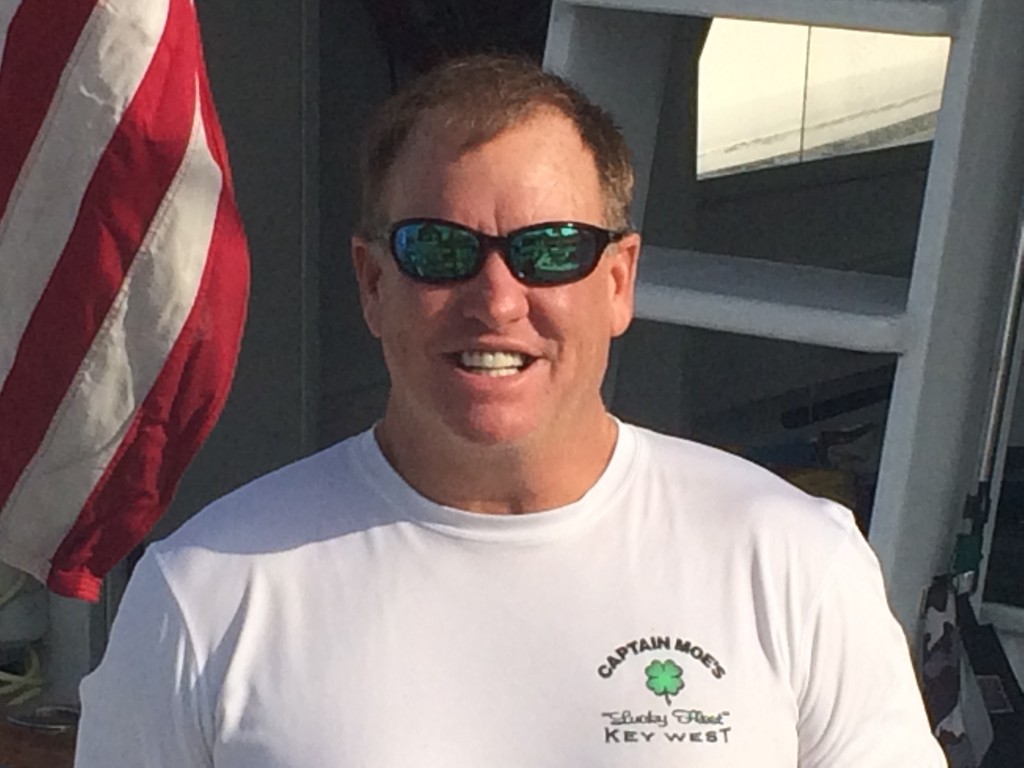 Captain Bill Bailey
Captain Bill Bailey joined the navy in 1987 and was assigned to the Navy Hydrofoils here in Key West. After spending some time here and fishing with some of the old-timers, Bill knew what he was going to do when he got out in 1995. Bill bought a boat, got his captain's license, and started guiding backcountry and flats trips, and trying his hand at fishing a few of the lower Keys Tournaments. Captain Bill, needing more full time employment, joined the Federal Navy Fire Department at Boca Chica Key West, Florida and is still employed there today. Having days off with nothing to do, he started his own fishing company for many years and was very successful at catching, producing, and having a great time with his anglers. As the fishing market grew harder to manage, and only working part time as a guide, Bill found it harder to accommodate his anglers, so he started freelancing and fishing for other companies around Key West. But in early 2015, Captain Moe's Lucky Fleet found a place for Captain Bill and brought him and his vast experience onboard. Our anglers have enjoyed Captain Bill for the last 2 years, and as a result, they have caught some of the best inshore catches of Tarpon, Snapper, Sharks, and Barracudas. On occasion Bill has even jumped on the offshore boat to turn some of his past anglers on to some of the great pelagic action that Key West has to offer.

Captain Teddy Baier
Captain Teddy Baier, started his career in fishing as a young boy. He worked at his grandpa's bait shop in Minnesota a long time ago and has never looked back since. Captain Ted has owned his own boats and fishing businesses in Key West for close to 35 years, and has one of the best reputations for knowing what to catch, when to catch it, and especially how to catch it. He has recently sold the Lethal Weapon Charters, and decided that skippering the Lucky Charm and not having the stress that goes with operating a business has made him a happy man. We here, at Captain Moe's Lucky Fleet are proud to have him onboard with us, and excited because he brings with him knowledge and experience that you can't get any other way then been there done it. Captain Ted's specialty, is Trophy Shark fishing. He will take you to his secret spots, set the rigs up, and will work side by side with the mate to insure that your fish of a life time is a memory that you won't forget. If you're after a new experience like a deep drop for a large Grouper or maybe you're after a Blue Marlin, Sailfish, or just a great story from an old-timer, Captain Ted is your man. He has been plying these waters for so long that the fish almost follow the boat begging for some exercise, and he is the one to give it to them.
First Mate Tommy Muskuna
First Mate Tommy Muskuna, aka "Tommy Hooks" as the fleet calls him, was born in New England, but spent his childhood fishing with his Father and Uncle in the Red Sea for big Snappers and Groupers to accommodate their holidays at the beach. From that point on he was "Hooked". As Tommy grew older, and always knowing that big game fishing was what he wanted to pursue, he moved South from New England to Key West in 1999 to pursue his passion for fishing for trophy fish. As Tommy's fishing career developed, he was lucky enough to have worked for some of the best Captains in Key West. Tommy was able to develop a style of both fishing and entertaining that brings experience and laughter to whoever's deck he presents himself on. Over the last 15 years he has perfected his style and has become one of the best fishing mates in Key West. So in 2015, the deck position on the Lucky Charm opened up and we went after Tommy to take the full time job, keeping our anglers busy and, most of all happy.
To book your fishing charter, call 305-304-8065 today!