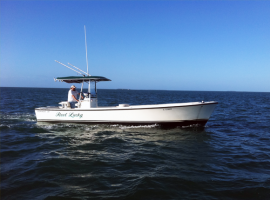 At Captain Moe's Lucky Fleet, we strive to offer the most expansive, entertaining experience of your lifetime. There is really nothing like setting foot on a boat and watching it sail out into the deep sea for a little all-day fishing extravaganza. Bring along some food and your favorite drinks, and this could be a charter you remember for the rest of your life. When it comes to fishing, we offer the best fishing boats in Key West, FL. The competition can try to beat us, but the experience we provide is simply unmatched.
Our Fleet
For over 30 years, our well-maintained fleet has expanded and offers countless vacationers and local fishermen the opportunity to sail the high seas. After spending 12 years on some of the largest sailing yachts in the world, Captain Moe began building his fleet in 1998 from just a single boat.
Our fleet includes The Lucky Charm, Reel Lucky, and Reel Lucky Too. Furthermore, each boat comes fully-equipped with the latest reels and rods. We also include comfortable battle-ready seating, large cabins, and a cooler for your drinks and food.
Our Crew
Even the best fishing boats in Key West, FL are useless without the proper crew to man them. Here at Captain Moe's Lucky Fleet, we have hand-selected the most capable crew members to ensure you have the best experience. Captain Bill Bailey, Captain Teddy Baier, and First Mate Tommy Muskuna make the trip worthwhile and easily remembered.
If catching fish is your goal, our crew has the experience and advice to make your dream a reality!
Contact Us for the Best Fishing Boats in Key West, FL
Are you ready to schedule a trip with the best fishing boats in Key West, FL? Do not hesitate to call Captain Moe's Lucky Fleet at 305-396-5606. We're ready for the next big fishing trip – are you?