How to Prepare for Your Charter Boat Trip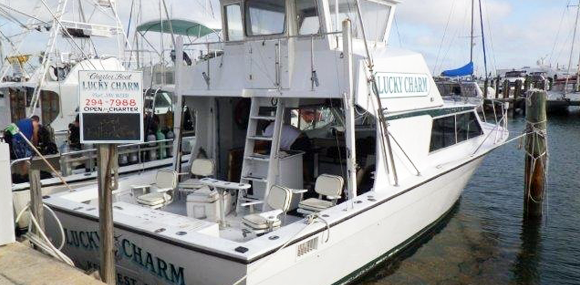 Whether planning a full-day excursion or just a half-day trip, it's best to be prepared for your next fishing charter. Thankfully, Captain Moe has gathered up a list of some of the essentials you should bring with you, and the items you won't need to worry about. This list is meant to ensure you have as fun a time as possible when fishing off the coast of Key West.
Seasonal Clothing
The time of year will determine what's best for you to wear on your trip. Generally, shorts and a t-shirt work well during spring and summer. Conversely, it's best to wear pants and long-sleeve shirts during the fall and winter seasons.
Weather Items
The tropical weather of the Keys can sometimes lead to some unexpected showers. If rain doesn't occur all day, it won't ruin a charter boat trip. However, if there are some showers in the forecast, it's best to bring items that will keep you dry. A windbreaker or rain jacket will do just fine, and rain ponchos are also a good option for keeping the rain away.
Food and Drinks
For day trips (or even half-day trips), it's good to pack some food and drinks. Bottled water, Gatorade, soda and other beverages are allowed on the boat. Additionally, snack items, sandwiches and other food items will do well to keep you satisfied throughout the day. All our ships in the Lucky Fleet have a cooler where you can keep your food and drinks. However, make sure NOT to pack any bananas; it's bad luck to have bananas on a boat!
Protection
While Key West FL is a beautiful locale, the sun gets just as hot here as it does anywhere else. Make sure to pack hats, sunglasses and sunscreen to protect yourself from getting burnt up. However, for sunscreen, stick strictly to lotion and NO AEROSOL. Aerosol cans tend to get everywhere on a boat and risk making it more slippery.
What We Cover
When you fish with the Lucky Fleet, we don't expect you to bring all your own gear and tackle. After all, not everyone is as experienced at fishing the Keys as we are! For this reason, we provide Penn rods and reels. Additionally, we supply all the lures, tackle and bait we will need for the trip. If you have gear of your own, make sure to let us know ahead of time so we can make room on our boat. Also, all our ships are equipped with a large Yeti cooler and options for shade.
Other Helpful Tips
Aside from the main items you should bring, here are some helpful tips to ensure you are prepared for the trip.
Closed and no-skid shoes are best while on the boat
If prone to seasickness, be sure to take medication the night before and the morning of
Don't bring items you wouldn't want to get wet
If you must carry water-sensitive items, bring plastic bags or dry pouches
Don't bring large bags or coolers onto the boat
Take it easy the night before, to prevent a rocky morning
Be ready to have tons of fun!
Book Your Trip
When looking to schedule a day of good times and great catches, get in touch with Captain Moe's Lucky Fleet today. You can contact us at 305-422-1615. Also, we are located at 201 Margaret St, Key West, FL 33040.